About Effie Galletly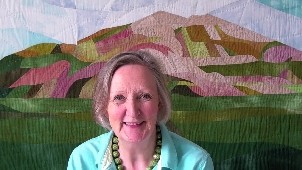 Effie Galletly grew up in the west of Scotland and was raised in a home where art, music and sewing were greatly encouraged. After leaving school she travelled widely as a singer and songwriter followed by a period working as a music journalist, and later running her own solo music publishing company while bringing up two daughters with husband Michael Dickson, a consulting structural engineer, in Somerset, England.
Work on image making started seriously for Effie while studying music as a mature student. Focusing on composing music to image, her first wall hangings were made to show with a wind quartet she wrote as part of her studies.
There have been four main influences in Effie's artistic development: her mother, Isabel, who set her challenging standards in her dressmaking and tailoring from early on; her school Art teacher, Mr Wilkie, whose lessons in drawing, structure and colour she has never forgotten; more recently Jan Hassard, who introduced her to the world of traditional quilt making in her beginners' class; and Susan Denton whose inspiring workshops set her on her own path of discovery.
Over the last decade, Effie has produced a large body of work, with an emphasis on the landscapes of the Outer Hebrides of Scotland, much of which is displayed on the galleries of this website. Effie has shared her work through talks, workshops and exhibitions across Great Britain and Canada, details of which can be found in the events archive.

Effie's most recent work is her book Patterns in Landscape which is a culmination of much of her knowledge in making landscapes in pieced fabrics disseminated for students interested in doing similar work.
You can view Effie's Hints and Tips on YouTube. Take a look here.
Effie's Work
Effie has taught and worked at passing on her skills in many places over the last ten years or so. From Somerset in the South West of England, through Bristol, Gloucestershire, Nottinghamshire, Lincolnshire, Cheshire and the Welsh Borders, West Yorkshire, Galloway in Southern Scotland, Edinburgh, Fife, Perthshire, Argyllshire, and Inverness to the Outer Hebrides in the far North of Scotland, Effie has been active with her enthusiasm for the beauty of the Hebridean landscapes and her wish to communicate how she interprets them.
Effie's work has been on show in many places in Scotland, England and the United States of America as well as Cape Breton in Nova Scotia. Her work has been purchsed by collectors from Aberdeen to Devon, Washington State in the USA to Melbourne in Australia.
For details on some of these please go to the events archive.

Artist Statement
For more than a decade I have been studying Hebridean island landscapes. I find them fascinating and exhilarating.
I come to landscape as a quilt maker. My methods are entirely traditional. The shape and form I use, suggested by what I see in front of me, are mine.
With traditional quilt making firmly in mind as a method, I am looking through that method to see colour and shape ahead of the practical side of fabrication. Composition, Colour, Light, Perspective and Movement are all taken into account during the initial stages of design making.
There is no attempt to be representational, more that the scenes are recognisably of the place from which they come. They evolve somewhere along a line between the traditional quilt and a representational painting. They are a hybrid all of their own.

Although in many instances dye and paint are used on fabrics, all effects are made with the colours in the fabrics used as vital elements. All fabrics are cotton.

I approach my work as both a puritan traditionalist and an organically thinking experimenter. It sounds like a contradiction in terms - however looking at the work itself should make some sense of this.