3-Day Summer Island Workshops 20th, 22nd, 23rd June 2016
Barvas and Brue Community Centre
Loading map...
Lower Barvas, HS2 0RA
Mon 20/06/2016 10:00am - Thu 23/06/2016 3:30pm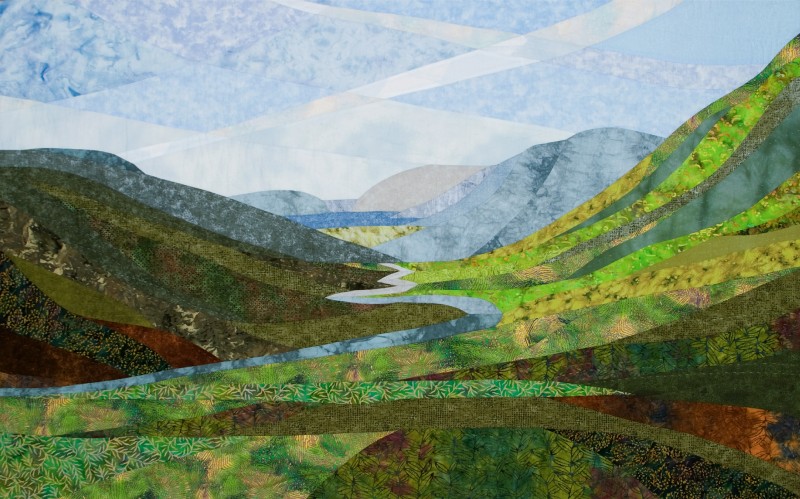 3 Day Summer Island Workshops 2016 are ready to booked and there are places still available.
Learn how to design and make your own Landscape Quilts.Three days gives the chance to work on a developed piece of work.

Topics covered will include the balance of Composition, an understanding of Perspective, the use of Colour, Pattern Making and a method of Fabrication. It will take place on the west side of the Isle of Lewis.
Take a week or more to be inspired by the Islands. Have three concentrated days to interpret your ideas.
These are Advanced Classes for those who already are quilt makers. Those with a good understanding of dress making or tailoring and a keen interest in making Landscape work could confidently approach these workshops. Not suitable for beginners.
The cost per 3 day course will be £110 per student. There will be a few sewing machines available to hire for a small charge for those who fly to Lewis or find it difficult to bring a machine of their own.
There are several ways to reach the islands: by plane to Stornoway and then hire a car or take a local bus; by train to Inverness then bus to Ullapool and ferry to Stornoway, then hire a car or take a local bus; or drive all the way to Ullapool and take a ferry to Stornoway; or drive to Uig on Skye and take a ferry to Tarbert in Harris and drive to Stornoway.
The Barvas and Brue Community Centre in the middle of Lewis is 11 miles from Stornoway. The Centre is next to a petrol station and shop with made up sandwiches, take away meals and fresh groceries.

The best starting point for both travel and accommodation would bewww.visitscotland.com You might try here or here for accommodation. Coming from many parts of Britain and even from abroad, as students might be, it is worth taking a day or two on the way as part of the trip.

You can book and pay for your course in the Shop.If you would prefer to pay by cheque, or if you have any queries regarding the course, please get in touch.
For anyone not wanting to book through the website for any reason, or with any queries about the course, please get in touch. Click on the image for a larger view.
For July booking dates go here.